Learn Spanish in Guatemala by Lake Atitlan!
Learn Spanish as the Living… Vital Language It is in Jardin de America Spanish School, a fully accredited, total immersion Spanish school, offering one-on-one intensive training by native Spanish speaking teachers.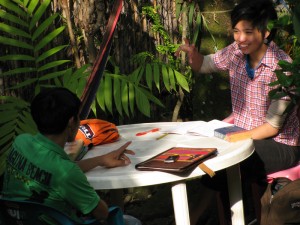 We offer One-to-One Spanish lessons, Spanish for small groups: One-to-two One Spanish Teacher for two students.
Or Learn Spanish Online, from home or at the distance, we have developed a program that can make you feel comfortable while learning, our study materials are designed for Online Learning. Reserve a Spanish Language Online Course. Enjoy 🙂
Learn Spanish the right way
Our teaching methods are based on learning correct grammar through very intensive classes with oral and written exercises. Basic conversation is also a very important part of our program for analyzing pronunciation as well as accent.
Our Intensive Spanish Courses are designed for individuals who need to learn Spanish fast, get familiar with a particular topic in Spanish and the time assigned for.
If your time to study Spanish is limited and you are highly motivated to advance as quickly as possible, you can choose from any of the following two options: you can have six hours of 1 to 1 Spanish Lessons per day.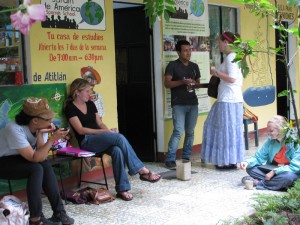 Teachers are trained professionals, certified by the Guatemalan Ministerio de Educación (Department of Education) to teach Spanish as a second language.
"I really enjoyed being at Jardín de América I had a wonderful experience, the teachers and staffs were very welcoming; i have really learned a lot, I wish I had more time here but. I will return one day. How can i not talk about the wonderful activities we had, the food was wonderful I will definitely make or at least try to make the different dishes.
I am really sad to leave but I will take with me the wonderful experience I had.
Thank you all for your hospitality God Bless you and your family and you will always be in my prayers " Kameka Collins – Social Worker – US – read more