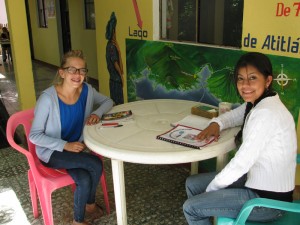 Spanish is one of the most important languages in today's world. Many schools, Colleges and Universities are including Spanish as a language of choice in America and Europe, be it for studies or to be able to enjoy the culture in Spanish speaking languages, teenagers have the tremendous ability to learn faster.
We have developed a Spanish Lessons program for Teenagers, making it fun and a creative process, this way they get immerse in the learning process in a very participative and fun way, this includes board games, garden games and outdoor activities around town, with visits to the market, cultural centers, galleries, playing field and many more activities.
The Spanish for Teenagers course is a very dynamic course, teenagers require more creative activities, our teachers have a preparation in teenagers teaching techniques so you can be sure they will enjoy it! they will be in good hands!
Register your teenager son-daughter and give them a chance to enjoy Spanish the fun way!

Spanish Lessons For Teenagers – One Teacher for One Teenager

| Weekly Rates | School | Family | Total |
| --- | --- | --- | --- |
| Package A: 4 hours daily (20 hours/week) | US$130 | US$140 | US$270 |
| **Additional Teenager: 4 hrs/day(20 hrs/week) | US$120 | US$140 | US$260 |
| Package B: 5 hours daily (25 hours/week) | US$162 | US$140 | US$302 |
| **Additional Teenager: 5 hrs/day(25 hrs/week) | US$152 | US$140 | US$292 |