Our Spanish School if famous for the learning program implemented and our Spanish Lessons for Small Groups is one of the most popular Spanish course offered, includes 20 hours of group Spanish lessons per week with the option to increase it to 30 if the group agrees on it.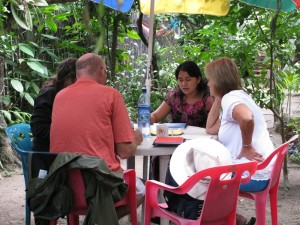 It is also possible to take additional private Spanish classes. Students have four hours of group Spanish classes each day either in the morning or in the afternoon. We are very flexible, and we understand that being by lake Atitlan is a must to travel around and enjoy it!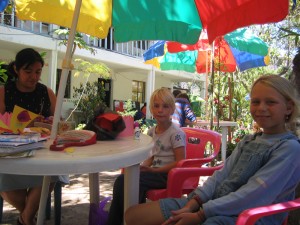 There is a maximum of four students per class, although the average amount of students in the classroom is usually between two and three. As groups are small, students always receive the personalized attention required to learn Spanish. If for any reason you would like to limit your class size to two or three students (couples or groups of friends traveling together), you can specify it in the sign up form.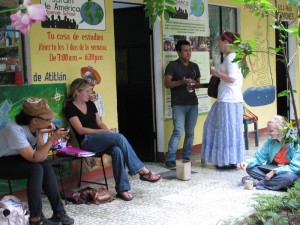 Groups are arranged according to student's Spanish levels ensuring that classmates will have a similar level of communicative proficiency. We encourage our students to fill out an Online Spanish Level Test before starting their language course. Upon arrival students will have a short oral interview with the principal or one of our teachers to determine each student's exact Spanish level. This way students oral expression and listening comprehension skills are taken into account as well as their reading and writing skills.

Spanish Lessons for Small Groups – One Teacher for Two Students

| Weekly Rates | School | Family | Total |
| --- | --- | --- | --- |
| Package A: 4 hours daily (20 hours/week) | US$190 | US$280 | US$470 |
| Package B: 5 hours daily (25 hours/week) | US$230 | US$280 | US$510 |
---
Spanish Lessons for Small Groups – One Teacher for Three Students

| Weekly Rates | School | Family | Total |
| --- | --- | --- | --- |
| Package A: 4 hours daily (20 hours/week) | US$240 | US$420 | US$660 |
| Package B: 5 hours daily (25 hours/week) | US$300 | US$420 | US$720 |
---
Spanish Lessons for Small Groups – One Teacher for Four Students

| Weekly Rates | School | Family | Total |
| --- | --- | --- | --- |
| Package A: 4 hours daily (20 hours/week) | US$320 | US$560 | US$880 |
| Package B: 5 hours daily (25 hours/week) | US$400 | US$560 | US$960 |
---